By Evelyn Macairan (The Philippine Star) | Updated June 27, 2014 – 12:00am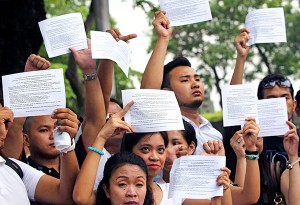 MANILA, Philippines – Importers and Customs brokers are racing against time to secure their accreditation with the Bureau of Customs (BOC).
BOC-Account Management Office head Jemina Sy-Flores yesterday said their office has been flooded with applications that would allow importers and brokers to continue their transactions with the bureau.
The accreditation of 1,500 of the 12,000 accredited importers and 460 of the 2,000 Customs brokers has been approved as of Wednesday.
Flores said they noticed the spike in applications since Friday. "During normal days, we process between 50 to 100 folders or applications a day, but since last Friday the number of applications went up to 300, last Monday it became 400 plus and last Wednesday we processed 500 applications," she said.
She said their personnel had to work overtime and look for additional people to accommodate the applicants.
She said they expect the number of applicants to further increase as the June 30 deadline set by the Department of Finance (DOF) draws near.
"We are not processing in full. We are only processing those that would soon expire, or those in the months of June and July, so their accreditation would not be cut off," she said.
When asked if their office would accept applications this weekend, Flores said, "this has not yet been discussed but if ever, we are willing if there is an order."
The BOC official attributed the late filing to the Filipino habit of waiting until the last minute to get a job done. "When it is close to the deadline, it is when they would be in a hurry, when in fact the changes in the accreditation were announced last December and formalized last February," she said.
Flores said Customs Commissioner John Philip Sevilla has approved their request for a three-month extension or until Sept. 30, but the DOF has yet to come up with a decision.
Revalidated accreditation is valid for three years.
Armando Chan, a Customs broker, said the BOC should just allow their accreditation, which they renew every year, to expire before requiring them to comply with the DOF memorandum.
"We have written to Commissioner Sevilla but our letters have been ignored. (If they would allow this situation to go on) economically the government would also suffer because no one would import and the BOC would have no collection. If no one will file an import entry, what will they collect… The BOC is already short in its collection," he said.
Meanwhile, some 20 Customs brokers wearing white shirts and black ribbons staged a protest outside the BOC gate yesterday morning.
Customs spokesperson Charo Logarta-Lagaon said the brokers' holiday did not hamper the bureau's operations.
The holiday was held to protest the implementation of the memorandum orders issued by the DOF, Bureau of Internal Revenue and BOC requiring them to secure accreditation from the BIR before they could transact with the BOC.
One of the reported requirements of the memorandum is a certificate of true copy from the Securities and Exchange Commission of the Customs brokerage firm's registration.
Brokers are also required to get clearance from the BIR.